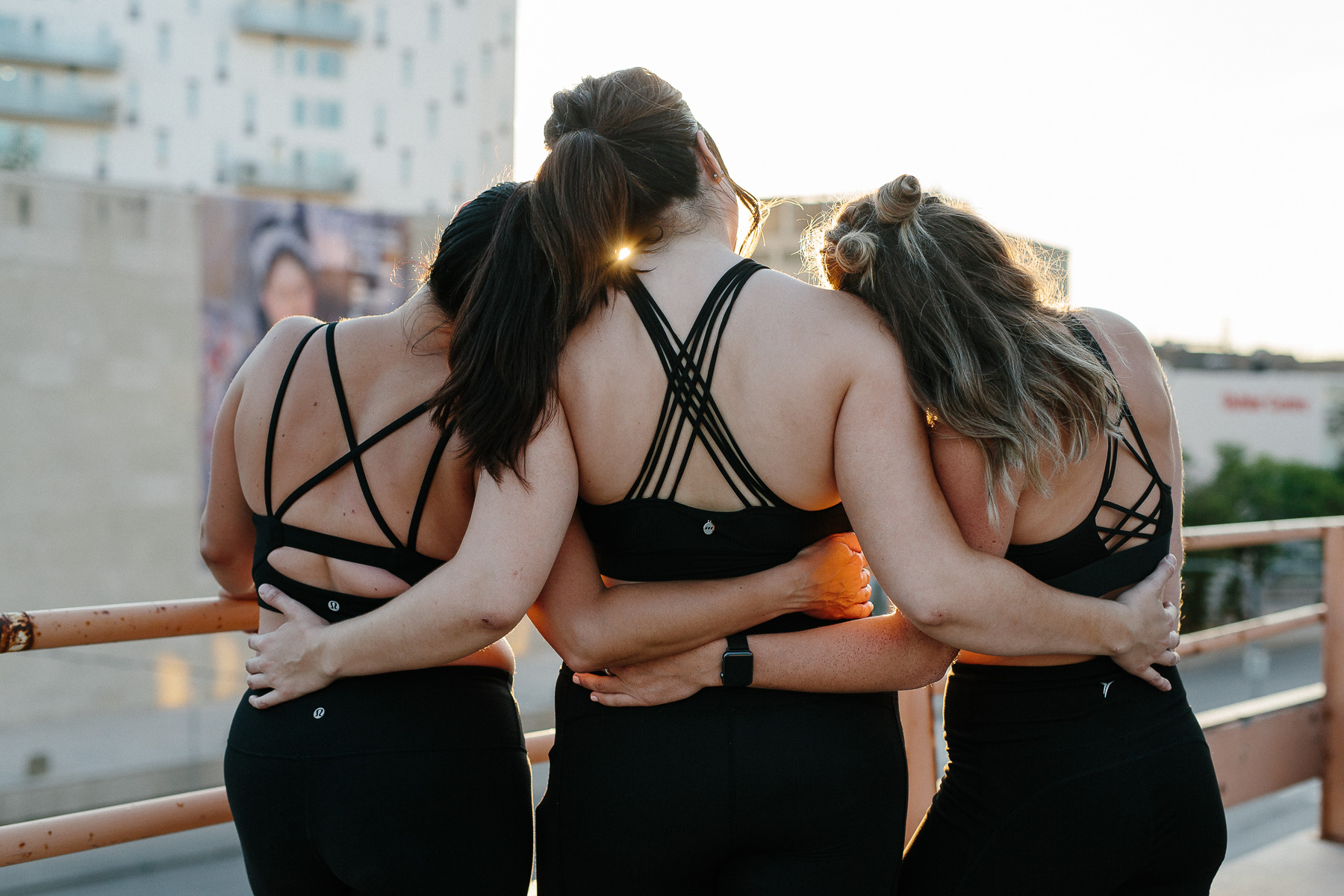 Since launching in the fall of 2017, the Gang has grown to 3,000 women. I feel so grateful to have had the opportunity to be part of these women's lives, and to shift what fitness means to them. Here is what they have to say about The Fit Girl Gang.
When starting my first round of The Fit Girl Gang I was weary. I didn't know exactly what I was in for. I've never done any kind of fitness program before so I was half expecting something kind of impersonal with a strict routine that would be impossible to follow. I was completely blown away by the manner in which Johanna runs her program. Every moment of it, every aspect feels personal and created for me specifically. There is something about Johanna that makes you feel like she's personally training you, which seems impossible considering there are so many women in this program. She has created a community in Winnipeg (and beyond) in which women can feel safe, be vulnerable and yet improve themselves in every way they've dreamed of for years. She alone has changed my life in the short 2 weeks I've known her. The Fir Girl Gang is unlike anything I've ever seen or heard of and I feel honoured every day to be apart of it and to know Johanna.
-Sarah
I just want to tell you how amazing I think The Fit Girl Gang is. It is truly motivating me more than I have ever been motivated before. I can honestly say that this group of girls and business you have created gives me so much courage and positivity to do better for myself. I am happy to say that after the first week I am down 7lbs and I could not be more proud of myself! This is truly what I've been looking for and I'm so thankful for you for creating such an amazing program and community.
-Kayla
I joined the Fit Girl Gang this past October in hopes to try to find a way to simply lose some weight and get in better shape. I came in hearing stories of how the program impacted others and wanted to find out for myself if it would make a difference in my life. Being one to have tried other programs and workouts, I was unsure what to expect. Upon joining and following the workouts and habits in the program, I have made significant changes to my lifestyle and feel confident in my abilities to maintain those changes and continue to grow as a woman. I have followed Johanna on social media and always found her inspiring, so when she launched this new program I couldn't wait to join. Johanna has created a platform for women of all ages and sizes that is honestly like no other program. Johanna has put her blood, sweat and tears into her work while building and maintain strong bonds with her members. The openness she brings to her members about her life and how she shows her work life balance proves how dedicated she is to helping the way women see themselves and how to form healthy habits. The Fit Girl Gang shows women of all levels in how to workout, how to perform habits, recipes for all diet needs. These habits are being formed in thousands of women's lives, and I feel confident when I say that Johanna isn't done yet. She is one of the most determined, positive and motivated women I have ever encountered in my life. She exudes confidence in every aspect of her life, and her business and professional relationships. I feel so proud to be apart of this community that Johanna has single-handily created, I know The Fit Girl Gang will continue to grow and be successful under her leadership and guidance. Johanna and her programs has changed my life and the way I see myself, the new found confidence I have is all because of her incredible program. Johanna has worked tirelessly to create a space where women can truly find themselves and work out together in a positive environment, it is truly a unique experience like no other and I cannot imagine not being part of her program in the future.
-Stacey
I've struggled with self image and self love for my entire life and have never felt more confident than I do right now. And that's thanks to you and your training. I have never felt fitter. It's life changing.
-Caroline
I wanted to let you know how amazing you and The Fit Girl Gang have been in my life and how much TFGG has changed my mindset. I joined thinking it would change my life fitness-wise, which it has, but the most drastic and important change has been my mindset. I've always struggled with positivity and optimism, and have been so hard on myself. This community has taught me to practice self love, positivity, optimism, and it's truly changed my life.
-Alexa
Johanna Seier and The Fit Girl Gang have been an incredibly positive impact in my life. She is positive and actively involved, making sure that the way members eat and work out, the way we live, is sustainable safe and healthy. I have never been a part of something that equally values mental health and physical health. As someone who has been diagnosed with social anxiety, one of my biggest triggers for me is food, and how to eat well or even to eat in front of other people. Johanna has helped me to understand that eating something unhealthy is not the end of the world or the end of progress and having to start over from square one. Theoretically this is a concept I have always known but haven't been able to practice until joining the fit girl gang. She has connected women of all ages and from all places, fostering an incredible community of women which with her influence is unbelievably supportive, sympathetic, and understanding. Her Facebook live chats, Instagram stories on both the fit girl gang account as well as her personal account are a constant reminder that she is with us and here to support us.
-Taylor
You don't even understand how much the community of TFGG has helped me in my everyday life. I used to think, wow I would love to be a part of a community of uplifting and empowering feminists, and here I am! I feel like I totally manifested you and this community into my life and am so endlessly grateful.
-Monika
I honestly really have to thank you. Before The Fit Girl Gang I did a competitive bodybuilding show and it ruined my view on food and the gym. After my long, long bulk and then prep for the show I completely quit the gym because I never wanted to harm my body like that again. Finding TFGG and all the amazing things you've taught me has helped me more than you'll probably every know. I can't thank you enough for how you've helped me view my body again.
-Delaney
Less than a year ago I'd workout with my head down because I HATED seeing myself in the mirror. It literally grossed me out. Today I did a workout in the room in my gym with all the mirrors and literally stared at myself the entire time. Your program (program isn't even a good enough word for what it is) is so, so amazing and you've definitely found your destiny in this work. Thanks, girl.
-Joanna
Honestly one thing I've learned through TFGG is that motivation gets easier with consistency & progress. I haven't had this much confidence in my body in a long time, and it's only been five weeks! I can't wait to see how my body changes by the end of this round. I don't crave junk as much as I used to and I have found a balance with my life and with food that I've never had before. So I wanted to extend a huge thank you to you and TFGG for giving me this confidence and self love.
-Jassmin
I have been 'following' Johanna Seier since she first released her Instagram posts about her bootcamps. It sounds weird, but I feel like I have seen Johanna succeed as an entrepreneur from the very beginning. When she first released information about her vision for The Fit Girl Gang (TFGG), I was immediately intrigued by the idea and wanted to be in the program ASAP! I keenly registered for the first round back in October 2017 and I am so thankful I did. Johanna puts in an intense amount of work into improving the program, building relationships with the women also completing the program, and being a support system for each and every one of us with whatever advice we may ask for. Since beginning the program, Johanna has introduced many healthy habit changes and ways of looking at things. She is extremely committed to ensuring we are all becoming better individuals in terms of mental and physical health. She has also made each and every one of us aware of our worth and that we are capable of doing anything we put our minds to! I think the greatest takeaway from TFGG that I have had is my mental gains. I am generally a very positive person, but when I become negative for whatever reason I get VERY negative and hard on myself. I have learned through Jo how to handle my negative thoughts and filter them into better ones. I can honestly say that I have been the happiest I have been in years. Johanna is honestly one of the most caring and hilarious people I have had the pleasure to meet and I feel comfortable talking to her about anything I need to. She has created such a safe community where 700+ women are able to share deep feelings about just about anything. Johanna is constantly running around as life keeps her busy. I applaud her and look up to her greatly, and she will always be an inspiration to me. She balances personal relationships, working out, healthy habits, family, TFGG, and her bootcamps each day and week. She is always thinking of new ways to improve TFGG and I am so lucky to be a part of the community. It has truly changed my life for the better. Thank you so much Jo.
-Larissa
Johanna Seier has done something so many people have tried and failed to do. She has created an open and vulnerable community of beautiful women committed to building and maintaining a stronger and healthier self. She is so transparent and connects with people in such a loving way, simply by working hard and keeping it real. She ready by example and finds pure joy in seeing the people in her life succeed. It is so f*cking rare to have someone care about empowering women so authentically in this world full of people trying to build themselves up. She takes the time to prove her TFGG girls matter. Thank you for motivating and inspiring me!
-Kaeleigh
For a long time I haven't been comfortable in a bathing suit. I would dread any plans with friends involving water or swimming and would often create excuses to get out of these plans. But I love being in water and would get upset with myself later when I had missed out on something fun because I let me fears and self image get in the way. Today I am proud to say that I wore a bathing suit in front of a bunch of people for the majority of the day, and didn't feel self conscious once. I want to thank The Fit Girl Gang and all the girls for helping me learn to express love toward myself again. Although I joined for the workouts, the true goal was always to take care of my mental health first, and I have never felt so loved or accomplished.
-Steph
I love TFGG and the COMMUNITY. I've done fad diets and signed up with a coach and so on and nothing has stuck because they were extreme and not a lifestyle change. Loving the results I'm seeing physically and feeling mentally from TFGG. Thank you!
-Victoria
So I stayed up last night to watch the live chat and it was AMAZING. I knew I was loving TFGG, but to watch that in person and feel so connected to everyone was so huge. This is honestly a really special and unique program you have and I'm so grateful to be a part of it. Thank you for creating this!
-Kirsti
The Fit Girl Gang is already having such a positive impact on my life and is exactly what I needed. I'm learning lots and can already see changes in the ways I am thinking about myself.
-Kat
Just watched the first live session…is it weird that I have butterflies? Like nervous, excited, amazing butterflies. This program could not be more amazing and I'm just so excited that I'm a part of it! I've had more energy in the last two days than I've had in a very lonnnnng time, and that in itself is so worth it!
-Paige
The Fit Girl Gang has had a bigger impact on me then I ever could have imagined. I joined thinking it was a 10 week program where I could get back on track, learn a thing or two about my form at the gym, and gain a few tips on improving my lifestyle. What I didn't expect was to walk away from the gym each and every day feeling happier, having more energy, knowing there is a community rooting for me every step of the way, not to mention seeing results much faster than any other program I have joined. Johanna has been my #1 cheerleader through the entire Fit Girl Journey and I can honestly say, all of us in the gang feel the same way. The community she has created, her involvement and passion towards each client is so outstanding, and truly shows how dedicated she is. I can't say enough great things about the Fit Girl Gang and I will continue to let others know the beauty of it all.
TFGG has been one of the best things I've ever done for myself. I have learned a lot about fitness and my fitness levels have improved greatly, but this group is so much more than that! The approach is completely self love centred and the focus on mental health is so important! There is a strong community aspect as well and it is really amazing! It's hard to describe until you're in it... but imagine a bad ass group of women always having your back, cheering you on, and supporting you, thought not only your fitness journey, but just through everyday life. I am so grateful for this group and I can't wait to continue my journey with TFGG and to watch it grow!
-Kelsi
The incredibly successful program that Johanna created (The Fit Girl Gang) has deeply impacted both my physical and mental health in life changing ways. I joined in the very first round of TFGG because I lived a completely sedentary lifestyle. I am now healthier and more confident than I have ever been. I've watched her business grow and evolve into something so important for women in all stages of life. Johanna is an amazing human who is committed to leading by example and pushing me to be my best self. TFGG is a community that has encouraged me to dream bigger, work harder, and rely on other incredible women for support along the way.
-Brianne
This is my third week into The Fit Girl Gang and I have no words to describe how amazing Johanna is at what she does. I have had a few personal trainers and in the past and yet I feel like none of them were really as interested in me as Johanna is...I haven't even trained with her in person yet so that says a lot! She is so passionate about each and every member of the the Fit Girl Gang Community and she cares about each of us equally. She has made me feel confident and comfortable in my own body, she encourages us and motivates us every single day. You can really tell she is determined to make the Fit Girl Gang the best program out there and to me it already is. Johanna is an inspirational woman who empowers us to live our best lives physically and mentally and just to be good people over all. No other trainer has ever done that.
-Daleska
I joined the Fit Girl Gang for Round 1 in October 2017. I had followed Johanna on Instagram for years and never had to second guess whether I was going to join this program or not, it was always a given from her inside looks and information put out on her social media that I would join it as soon as it came out.
To say that Johanna and the Fit Girl Gang has changed my life would be an understatement. Johanna's attitude and the way the Fit Girl Gang is laid out has made this program an all-inclusive and supportive group of women who would essentially do anything in their power to be there and up-life one another. This program has substantially changed my perspective on what being "healthy" really means, and has helped me learn to accept myself and conquer self-doubt.
The supportive atmosphere in this program she has created has made it possible for any woman to participate and accomplish their goals within this program. Her live chats and individual messages/comments in her Facebook group and Instagram are motivating, knowledge and considerate; you are never left alone in this program, and you never feel as though this is just another workout program that you will never finish. Her guides and resources on the website are better than any program I have joined in the past, and her knowledge and instruction made it possible for woman of any and every fitness level to finish each round that has been released so far.
-Jill